Arya Institute of Engineering & Technology
Arya Institute of Engineering & Technology
---
Amenities at Arya Institute of Engineering & Technology (AIET) provide far more than academic and administrative facilities on campus. It is dedicated to provide students with an exceptional infrastructure for learning as well as facilities for simplifying the procurement of fundamental skills. To accomplish the goal, AIET offers the following :
GREEN CAMPUS
The Institute has an impressive and pollution-free campus with panoramic green surroundings, elegant landscaping and beautiful flowerbeds.
GREEN PRACTICES
The Institute has an impressive and pollution-free campus with panoramic green surroundings, elegant landscaping and beautiful flowerbeds.
I. Students and staff using:

Bicycles

College bus facility and Public Transport

Pedestrian friendly roads

Power down

II. Plastic-free campus

III. Paperless office

IV. Green landscaping with trees and plants
RESPONSE:
I. Students and staff using bicycles, public transport, pedestrian friendly roads and power down
The institute is a Green campus, Plush, Serene, with Landscaping. The students and faculty are encouraged to plant more trees and making the campus garbage and plastic free zone.

Swacch Bharat Abhiyan Club at our college takes care of maintaining the campus clean.

The Illumination and Ventilation in classrooms are adequate considering natural light and air velocity present.

Many students and staff of the college use the college transportation provided from various key locations in the city thereby reducing the use of personal vehicles.

Students and staff residing in the nearby areas commute to the college by walk.

The college is located on the main road due to which many students commute to the campus using public transportation.

Students has practice that if there appliances or they are not in room turn off lights and other equipments.

Use of LED & CFLs bulbs instead of using conventional bulbs and lights for energy efficient.
II. Plastic free campus
Plastic is banned on campus and is prominently displayed on all notice boards and corridors.

The college discourages the use of plastic by conducting awareness programs to staff and students.

Adopt reusable bag practice to reduce the harmful impact on environment.

Nix bottled water- Reuse old water bottles or purchase water bottles that can refilled instead of tossing out a new bottle every time.
III. Paperless office
The institution encourages use of emails and mobile applications for sharing notices, circulars and other important documents for communicating with staff and students.

Phone calls and SMS messages are used to communicate the performance of students to their parents.

The Accounts department use Tally ERP software for all the functions in order to aim for paperless office..

Students take notes, assignments and other study material from college website.
WATER & ELECTRICITY
The institute has complete arrangements to deliver uninterrupted water and electricity supply for the students, round the clock. Sufficient water coolers with filtered water are available throughout the campus to provide clean drinking water to the students. In case of power failures, high power generators are also available. Constant monitoring is carried out to ensure that cleanliness is given utmost importance.
Alternate Energy initiatives such as:
I. Percentage of power requirement of the Institution met by the renewable energy sources
---
| Power requirement met by renewable energy sources | Total power requirement | Renewable energy generated and used | Energy supplied to the grid |
| --- | --- | --- | --- |
| 70 KVA | 300 KVA | 70 KVA | NIL |
II. Percentage of lighting power requirements met through LED bulbs
---
| Total Lighting requirements | Percentage Lighting through LED bulbs | Percentage Lighting through other sources |
| --- | --- | --- |
| 10 KW | 15 | 85 |
HEALTH
Health is wealth. Keeping this in mind regular health checkup Camps are organized in the campus to examine the health of students and staff members. Acquisition of health related knowledge, attitudes, skills and practices empower students to pursue a healthy life. The energetic students take full advantage of every opportunity to learn and thus achieve higher - academic excellence & tend to maximize social relationships and interactions, thus improving their chances of balanced progress.
MEDICAL
Each hostel is provided with necessary first aid facilities. The Institute provides free first aid to the students in college campus during working hours. Qualified physicians are available in the close proximity of the college & hostels for consultancy.
Waste Management steps including:
Solid waste management
Liquid waste management
E-waste management
RESPONSE:
Solid waste management:
We produce our own manure by vermin composting. Also, "Waste management" is part of the campus gardens, helping optimum utilization of food waste and garden waste. Plant is being regularly utilized to convert garden waste into compost. Leaf composting is done in-house which is also put on sale in months of excessive leaf fall in order to clean the pits. Organic farming is done on campus to sensitize students on sustainable agricultural practices which is part of the curriculum. Students and staff are also encouraged to purchase organic vegetables. Department of Education develops teaching-learning materials such as science kits and educational games for children with special needs from waste materials. Department of Resource Management and Design Application develop useful new products from waste materials. The college proposes to set up Effluent Treatment Plant and is exploring sponsorship options.
College maintains all its computer peripherals and takes pride that it has been actively involved in recycling all the computers and its components in the last 5 years. This also ensures that computer accessories are being maintained at minimal cost. Computer Resource Centre ensures buy back of lithium batteries and ink cartridges, while making new purchases.
Waste management
We want to utilize the waste generated basically the kitchen waste at a regular basis by using a new and a versatile method which is different to the conventional one. The main advantage is that the smell which usually comes from the conventional model can be removed or eliminated completely by using the green box. The balloon used in this method is very much durable and can be used for a very long term of time. The pressure value of the setup can also be adjusted to a very wide range of values and also the fuel generated from the setup or basically the quality of the flame generated is also quite appreciable. The gas filters used in this process separates the methane gas from the rest gases of the gases by the process of gas methanification.
The quality of gas obtained is also quite appreciable and also it is a type of clean fuel which is fumes free. The composition of the waste consists of approximately 50% of solid waste and 50% liquid.
The waste which on slow degradation causes the formation of the gas consists of 78% of methane 21% of carbon dioxide and 1% of other gases. The input supply of the system consists of an opening through a pipe which is situated 24 inches above the ground level. The output supply in the same way is situated 36 inches above the ground level. The pressure range varies according to the amount of product available and also the number of days under which the waste is been treated according to the amount of enzymes provided.
Thus all in all it can be said that the green box is very much beneficiary and is also of very great use and is also pollution free and does not cause any harm to the environment.
Advantages of Biogas
I. Biogas is Eco-Friendly
Biogas is a renewable, as well as a clean, source of energy. Gas generated through biodigestion is non-polluting; it actually reduces greenhouse emissions (i.e. reduces the greenhouse effect). No combustion takes place in the process, meaning there is zero emission of greenhouse gasses to the atmosphere; therefore, using landfill gas as a form of energy production is actually a great way to combat global warming.
Unsurprisingly, concern for the environment is a major reason why the use of biogas has become more widespread. Biogas plants significantly curb the greenhouse effect: the plants lower methane emissions by capturing this harmful gas and using it as fuel. Biogas generation helps cut reliance on the use of fossil fuels, such as oil and coal.
Another biogas advantage is that, unlike other types of renewable energies, the process is natural, not requiring energy for the generation process. In addition, the raw materials used in the production of biogas are renewable, as trees and crops will continue to grow. Manure, food scraps, and crop residue are raw materials that will always be available, which makes it a highly sustainable option.
II. Biogas Generation Produces Organic Fertilizer
The by-product of the biogas generation process is enriched organic (digestate), which is a perfect supplement to, or substitute for, chemical fertilizers. Furthermore, this digestate mitigates erosion.
Diagrammatic Representation
Biogas Tank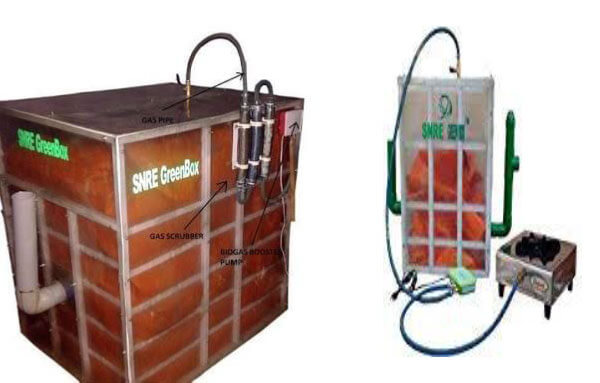 ---
Assembling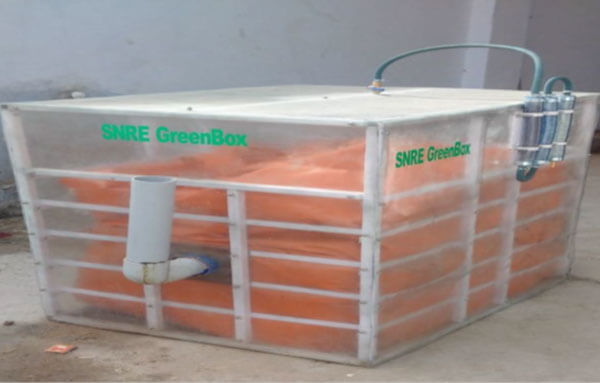 Biogas Plant
---
CONCLUSION
Biogas technology offers a unique set of benefits. It can improve the health of users, is a sustainable source of energy, benefits the environment and provides a way to treat and reuse various wastes—human, animal, agricultural, industrial and municipal. It has come a long way since the 1970s, with China and India supplying models of how to disseminate small biogas plants in rural areas. In other developing countries, the proportion of functional plants is often 50% or less. This reflects a need for investment in operational validation, maintenance and repair if the technology is to thrive. Experience suggests considerable government involvement is requested for these support networks to be continued over time. The current drive to reduce indoor air pollution by promoting cleaner cook stoves would appear to present biogas stoves with renewed development opportunities. At the same time, domestic biogas digesters have number of challenges to overcome for continued proliferation in the 21st century. Designs which deliver lower cost, improved robustness, functionality, ease of construction, operation and maintenance would aid the market penetration of biogas plants. Furthermore, to move beyond a dependence on livestock manure there is a need for small-scale bioreactors which efficiently digest available substrates in both rural and urban situations. On a domestic level these include kitchen waste, human excreta, weeds and crop residues.
Liquid waste:
Liquid wastes mainly consist of waste water from residential, commercial and industrial areas in towns and cities. This waste water contains many dissolvable unwanted and rejected substances. In cities and towns, waste water is transported through sewerage system having a network of underground pipes called sewers.
Sewage is waste water containing solid and liquid excreta coming from houses, streets, industries etc. Silage is another term applied to waste liquid not containing excreata. Sewage water mainly has 99.9 percent of water and rest 0.1 percent of organic and inorganic substances.
This waste water carries many bacteria which cause diseases. Organic matter decomposes to give different colour to the water and it also gives bad odour to the liquid. The sewage water is managed to get it free from pollution and can be reused for agricultural and other uses.
E-waste:
Lamps and bulbs are disposed off after removing mercury filaments.

Battery terminals are tapped before disposal.

All the e-waste collected on campus is kept in containers and labelled before disposal.

The E-waste collected in the containers is disposed off to E Scrap Zone for dismantling and recycling.

To reduce the use of CDs and DVDs, students and faculty members are encouraged to use emails for all official purposes.
STP PLANT
WATER HARVESTING
SOLAR SYSTEM
---