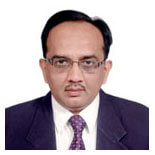 Mr. Ajay Kumar Khattar
Program Manager for SAP S/4 HANA and SAP Hybris Implementation
---
Positive, proactive and goal oriented IT Executive with highly successful and demonstrated experience in handling SAP Projects. PMP & ITIL certified with 18+ years of IT SAP experience encompassing a wide range of skill set, roles and industry verticals. An effective leader and team player and a strong people management skills with large to very large (100+ members) onshore & offshore. Exceptional skills in implementation of teams and systems to provide business solutions which increase operational efficiencies. Expert in waterfall implementation methodologies including ASAP and Agile Scrum Methodologies. Personally I believe that the real thrill is when you start any initiative and never take failures. To quote Edison "I have not failed, I have just found 10000 ways that won't work" is what I try to keep my motto. Specialize in proposals and SAP program management. Have worked extensively with CPG, Pharma & Dairy industries.
Mr. Arun Lohiya
President - Jetsetgo Aviation Services Pvt. Ltd.
---
Cumulative experience of over 34 years across varied industries including leadership role of more than 10 years in Air Charter industry with expertise in aggregation model, regional connectivity and optimization of aviation resources. Embark on multiple thriving startup ventures in general aviation business, steer wide international connects in industry and provide value to customers and aircraft owners alike. Among first in engaging with overseas operators for transnational charters, carrying out study for establishing flying training academy in Mauritius along with construction of first ever dedicated airfield for flying school in India. Forge strong relationships with leadership executives, drive P&L initiatives, business development, solution and services sales, product management and capacity building. Set up systems and processes for transforming business by creating innovative strategies, planning and managing change effectively. Contribute ingenious strategic initiatives for nailing business challenges and providing sturdy guidance for entire progression cycle from conceptualization to implementation. Adept at implementing re engineered initiatives, internal control boost besides developing capability of large qualified teams.
Mr. Suben Rana
President @ CXO Club, Kolkata chapter
---
Selected as an 'Industry Expert' in the panel of following institutions: IIM Rohtak, IMT Gaziabad, FIIB New Delhi, IIT Roorkee and SIBM Hyderabad. Currently involved in mentoring students of above institutions and making them "Industry ready." Selected as "Member of the Board" ( BOS ) by Lovely Professional University. Selected for "Senior Advisory Role" by Arya Group of Colleges, Jaipur. Recently selected to the Board of IFERP as 'Honorary Fellow Member'.
Mr. Moe Vyas
Principal Consultant at AEROVIA Consultants Ltd, CANADA
---
Mr. Moe Vyas is a Aviation consultant, specializing in air traffic management, airspace management technologies, aviation training academies set-up. And at present Internationally active ATMS and CNS/ATM Technologies, airspace design and management consultant with a world-wide network in the air traffic control management arena.
Mr. Anoop Ramchandran
Manager - Business Operations (Regional) at Collabera
---
Anoop Ramchandran presently working as Manager - Business Manager (Regional) at Collabera To improve the operational systems, processes and policies in support of organizations mission --specifically, support better management reporting, information flow and management, business process and organizational planning.
To manage and increase the effectiveness and efficiency of Support Services, through improvements to eachfunction as well as coordination and communication between support and business functions.